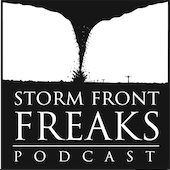 In This Episode...
Introduce the mission of the program and the diversity of the team

Guest: Edward Shaver-Chief Technology Officer, Entropy Technology Design and the NIMBUS Severe Weather Detector

Lightning Round: Celebrating 20 years with trivia from the movie Twister

Storm School with Brady teaches storm ingredients

The team discusses storm chaser congestion and how to fix it

Weather Fools: We share our most crazy examples

Media Outbreaks: We share our favorite photos, video or people
Our Guest...
Physicist Edward F. Shaver is the Chief Technology Officer of Entropy. Prior to joining Entropy, Mr. Shaver led development and production for the ThunderBolt and SkyScan products. The SkyScan product, introduced in 1995, pioneered the industry as the first commercially viable hand-held lightning detector. The ThunderBolt product, introduce in 2003, was the first hand-held product capable of tracking the motion of full thunderstorms, introducing the ability to offer Estimated Time of Arrival for storm activity at a particular location. In 2012, Mr. Shaver developed the StormVector Area Warning System, which used wireless communication to build auto-meshing networked storm warning alert beacons of unlimited size. This allowed for the implementation of the ThunderBolt storm warning in large industrial facilities, college campuses, and even areas the size of small cities. Mr. Shaver was also part of the development and manufacturing design team for the P5 Personal Lightning Detector for Sky Scan Technologies.
Storm Chaser Congestion Discussion Articles:
Weather Fools Picks
Media Outbreaks Picks
We may read it on our next episode!
Subscribe to the Storm Front Freaks Podcast on iTunes, Google Play, Stitcher, and TuneIn Radio. We want to hear from you, so be sure to give us feedback, shoot us some ideas for future shows and find us on social media - see
www.stormfrontfreaks.com
for all the information!