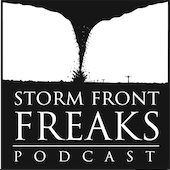 In This Episode
Guest: Dominique Villela, Chief Marketing Officer, MetLoop-Precision Weather Technologies

Lightning Round: Hi or Lo

Storm School with Brady teaches Sea Breeze TStorms

The team discusses current congressional bill that may take away forecasting and alerting duties from the NWS and privatize them

Weather Fools: We share our most crazy examples

WxResources: Highlighting weather resources for our listeners

Listener Questions and Comments
Our Guest
Dominique Villela is the Chief Marketing Officer for MetLoop-Precision Weather Technologies.  MetLoop provides personal weather alerts for your specific residence or business.
Congressional Bill to Limit NWS from Forecasting and Alerting Duties
Weather Fools Links
WxResources Links
Download
Remarks App
 on your iOS device and search "Storm Front Freaks" to listen to our podcast AND read behind the scenes comments.  Also have direct access to the links we discuss on the show as well as news only for Remarks users!
Credits
Opening and Closing Music:  Andrew Slotta