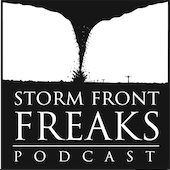 In This Episode
Guest: Kory Hartman, Storm Chaser and Owner, SevereStudios.com

National Weather Podcast Month Guest Co-Host: Bill Murray, Weather Brains

Lightning Round: Think Like a Freak-Famous Food Dishes in Tornado and Dixie Alley

Titan U Minute with Chris Sanner: Models and Severe Weather

The team discusses how to get live storm footage to the public masses if we know they're more likely to act.

Brady's Storm School: Pollen Forecasting

Weather Fools: We share the foolish things people do in bad weather situations

Wx Resources: We provide some great weather sites, apps and equipment

Our next guest
Our Guest
Kory Hartman, Storm Chaser and Owner of SevereStudios.com
A former television and radio studio engineer, Kory combined his love of weather and experience in the broadcast industry to help create Severe Studios Inc. As owner of the storm video broker, Kory coordinates and represents a team of over 60 professional storm chasers, including himself, who cover severe storms for local and national networks like The Weather Channel and CNN.
Sponsor:  www.WeatherProShop.com of Severe Weather Center
Titan U Minute with Chris Sanner:  www.TorndaoTitans.com
Weather Fools Links
WxResources Links
Submit your questions or comments about this show to questions@stormfrontfreaks.com and we may read it on our next episode!
Weather Brains Podcast can be found at www.weatherbrains.com
March is National Weather Podcast Month.  We are joined by 7 other weather podcasts in a month of great programming and co-host crossovers!  Find the National Weather Podcast Month logo on our website for more information.
Next episode, our guest will be Storm Chaser and NWS Research Meteorologist, Gabe Garfield!
Credits
Opening and Closing Music:  Andrew Slotta