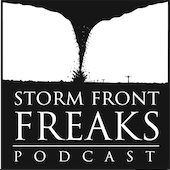 In This Episode
Guest: Mark Sudduth, hurricane chaser and founder of HurricaneTrack.com

Lightning Round: Hurricane or Supermodel?

Titan U Minute with Chris Sanner: Chase Equipment

The team discusses need for new hurricane rating system

Brady's Storm School: Green Skies

Wx Resources: We provide some great weather sites, apps and equipment

Weather Fools: We share the foolish things people do in bad weather situations

Our next guest/show
Our Guest
Mark Sudduth, founder of HurricaneTrack.com
Mark has been studying the impacts of hurricanes for 22 years and his team deploy remotely operated, unmanned camera systems to stream and capture live video of hurricane effects. The video is saved "in the cloud" and later retrieved for analysis including time lapse research and educational uses. In addition, Mark has worked to collect wind and pressure data during tropical storm and hurricane landfall events and has contributed numerous reports to the National Hurricane Center both operationally and post-cyclone.
@HurricaneTrack on Twitter
@HurricaneTrack.com on Facebook
HurricaneTrack on YouTube
Sponsor: www.WeatherProShop.com of Severe Weather Center
Titan U Minute with Chris Sanner: www.TornadoTitans.com
WxResources Links
Phil: Simple Gourmet Meals for After the Hurricane
Weather Fools Links
Brady: Jogging on trail under downed tree
Submit your questions or comments about this show to questions@stormfrontfreaks.com and we may read it on our next episode!
Next episode, our guest will be The Weather Channel Meteorologist, Jim Cantore!
Credits
Opening and Closing Music: Andrew Slotta