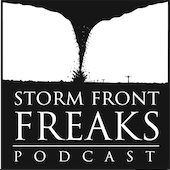 In This Episode
Guest: Gary England, Oklahoma TV Weather Legend
Lightning Round: Gary England Drinking Game Challenge
Titan U Minute with Chris Sanner: Video Tips
The team discusses the future direction of TV Meteorology
Brady's Storm School: Squall Lines
Wx Resources: We provide some great weather sites, apps and equipment
Weather Fools: We share the foolish things people do in bad weather situations
Our next guest/show
Our Guest
Gary England, Oklahoma TV Weather Legend
In 2015 Gary England was appointed by the Oklahoma Board of Regents as the University of Oklahoma Consulting Meteorologist in Residence.  Well known for his time as a TV Meteorologist with KWTV in Oklahoma City, Gary received four Heartland Emmy awards and has been the recipient of numerous other honors including the prestigious national Edward R. Murrow award for coverage of a tornado event.
In 1981, Gary became the first person in history to use Doppler radar for direct warnings to the public.  Besides appearing in the Steven Spielberg movie, "TWISTER", he has long been a sought after consultant for tornado weather specials produced by national and international television channels, appearing in over 60 such productions. 
He is a graduate of the University of Oklahoma with a Bachelor of Science degree in mathematics and meteorology.
Sponsor:  www.WeatherProShop.com of Severe Weather Center
Titan U Minute with Chris Sanner:  www.TorndaoTitans.com
Storm School
Brady's Storm School Link:  Medium.com Squall Lines
WxResources Links
Weather Fools Links
Submit your questions or comments about this show to questions@stormfrontfreaks.com and we may read it on our next episode!
Next episode (33), our guests will be storm chasers, Basehunters Chasing.
Credits
Opening and Closing Music:  Andrew Slotta