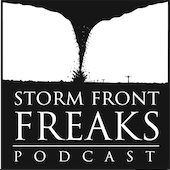 In This Episode
Guest: Bill Ford and Mike Prendergast of Storm Warriors
Lightning Round: Head-to-Head and Match the Freaks (Iconic Restaurants)
Titan U Minute with Chris Sanner: Forecast Models Part 2
The team discusses if organizations, employees and chasers involved in storms should do more to equip themselves for assisting after they hit?
Wx Resources: We provide some great weather sites, apps and equipment
Weather Fools: We share the foolish things people do in bad weather situations
Listener/Viewer Comments and Questions
Who will be our next guest?
Our Guests
Bill Ford and Mike Prendergast of Storm Warriors
Bill Ford has been tracking down tornadoes and helping with disaster relief for three decades.  After witnessing the aftermath of the 1999 Moore Oklahoma tornado, Bill has been stopping and giving assistance to those affected by storms.  He was involved in the recovery from Rita, Katrina, and Sandy hurricanes as well as many tornado aftermaths in Texas and Oklahoma.
Bill believes, "No one should ever die from a tornado."  He helps bring advanced warning to communities by providing 'ground truth' to the National Weather Service and other news media.  Bill has also been a part of helping train volunteer fire fighters, county sheriff and community leaders on how to give advanced warning.  In addition, helping family's community organizations and schools take responsibility through awareness and education through their "Know Where To Go" campaign.
Born and bred in Texas, Mike Prendergast first gained a fascination with all things extreme weather when he experienced the power of a Category 3 Hurricane Alicia in 1983 as the eye wall passed over his childhood home.  He has been enamored with weather ever since and in particular tornadoes.
His heart for serving others spills over into storm chasing.  While he enjoys seeing the power of the storm, he hates to see communities get ravaged.  After years of asking God why he has this fascination with something that causes so much pain and destruction, He has shown Mike the good in being able to warn others of the impending storm, assist those that need it most and help restore those communities affected.
Titan U Minute with Chris Sanner: www.TorndaoTitans.com
WxResources Links
Weather Fools Links
Submit your questions or comments about this show to questions@stormfrontfreaks.com and we may read it on our next episode!
Next episode (46), we'll be celebrating Women in Science Day with our guest Jen Carfagno of The Weather Channel.
Credits
Opening and Closing Music: Andrew Slotta