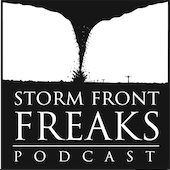 In This Episode
Guest: Ray Leichner, Drone Storm Chaser
Lightning Round: Family Feud (Top Flying Machines)
Titan U Minute with Chris Sanner: Forecast Models Part 4
We discuss the observed aging of storm spotters and the future of the NWS training program.
Wx Resources: We provide some great weather sites, apps and equipment
Weather Fools: We share the foolish things people do in bad weather situations
Listener/Viewer Comments and Questions
Who will be our next guest?
Sponsor: Danner Boots at www.Danner.com
Our Guest
Ray Leichner, Drone Storm Chaser
Ray's love of storms started at a young age. At 12 years old he was using his Dad's camcorder to document thunderstorms in his backyard. To date Ray's aerial photography has been featured on the Weather Channel, Weathernation, CBS, NBC, ABC News, Fox News and most recently The Washington Post. Ray was approached by Eastern PA Weather Authority in the spring of 2017 to be a contributor by producing live feeds of severe weather via the Drone giving his audience storm reports as it occurs. Ray flies a DJI Phantom 3 and Phantom 4 currently. 
Titan U Minute with Chris Sanner: www.TorndaoTitans.com
Weather Fools Links
Wx Resources Links
Submit your questions or comments about this show to questions@stormfrontfreaks.com and we may read it on our next episode!
Next episode (48), we'll be with the President of Spotter Network and their resourceful website for spotter, chasers and the NWS, John Wetter.
Credits
Opening and Closing Music: Andrew Slotta