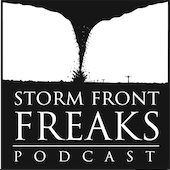 In This Episode
Guest: Chad Myers, CNN Meteorologist and Severe Weather Expert
Looking for listeners to submit music for new show introduction
Calling for intro music submissions from our listeners
Helicity Designs and discount code
Lightning Round: Real or Homemade-Fishing Lure Edition
Titan U Minute with Chris Sanner
Discussion on on-location storm reporting
Mean Tweets with Chad Myers
Wx Resources: We provide some great weather sites, apps and equipment
Weather Fools: We share the foolish things people do in bad weather situations
Who will be our next guest?
Submit your 60 second, vocal free song/riff for consideration to be our new intro song! Send mp3 to phil@stormfrontfreaks.com by May 28th to be considered.
Visit www.HelicityDesigns.com for our Storm Front Freaks lineup of drinking containers. Use code: PODCAST at check-out for 5% off your entire order
Our Guest
Chad Myers is a meteorologist and the severe weather expert for CNN. Myers joined the network in 1999
He made his mark in broadcast meteorology forecasting the local weather in Detroit; Columbus, Ohio; Oklahoma City; Richmond, Virginia; and Lincoln, Nebraska before joining CNN.
Chad is a University of Nebraska graduate and earned his bachelors of science degree in meteorology in 1987
Titan U Minute with Chris Sanner: www.TorndaoTitans.com
Wx Resources Links
Weather Fools Links
Submit your questions or comments about this show to questions@stormfrontfreaks.com and we may read it on our next episode!
Next episode (54), we'll be with Janice Dean, Sr. Meteorologist on FOX News
Credits
Opening and Closing Music: Andrew Slotta