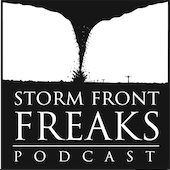 In This Episode
Guest: Jeff Berardelli, CBS Climate Contributor, Meteorologist and Creator of ZoomRadar
Helicity Designs and discount code
Lightning Round: Hollywood Squares-The Day After Tomorrow
Indiana ChaserCon and Discount Link
Weather Trollbot 5000 interprets meteorologist's responses to trolls
Wx Resources are shared to help you find some new resource links
Who will be our next guest?
Our Guest
Jeff Berardelli, Climate Change and Extreme Weather Contributor to CBSN, New York and Creator of ZoomRadar 
Jeff is a Climate Change & Extreme Weather Contributor to CBSN NYC where he is also studying for his master's degree at Columbia University.  Former Lead Meteorologist at CBS12 in West Palm Beach, Jeff is also the Creator of ZoomRadar, a Storm Chaser Map and Weather Radar for websites including StormFrontFreaks.com.
Visit www.HelicityDesigns.com for our Storm Front Freaks lineup of merchandise.  Use code: SFF at check-out for 5% off your entire order
Indiana ChaserCon on November 17, 2018.  Get 20% off registration ($20) by going to this exclusive link:  www.indchasercon.com/sff
Wx Resources Links:
Submit your questions or comments about this show to questions@stormfrontfreaks.com and we may read it on our next episode!
Next episode (65), our guest will be Rick Reichmuth, Chief Meteorologist for FOX News.
Credits
Opening Music: Brett Epstein
Closing Music: Gabe Cox
Other Music: "Pecos Hank" Schyma from El Reno Blues