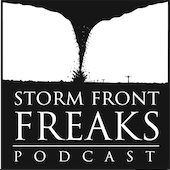 In This Episode
Guest: Ada Monzón, Chief Meteorologist WIPR-TV, Puerto Rico
National Weather Podcast Month and Joel Housman from Ice Station Housman Podcast
Tracker Chat with the Tornado Trackers – Tornadoes That Shaped Us
Lightning Round: Trippy
Tornado Talk with Jen Narramore – Piedmont, AL Palm Sunday F4 Tornado
Wx Resources-Great sites, books, equipment and more for you!
#WeatherFools-We present the fools doing stupid things in weather situations
Who will be our next guest?
Brought to you by Extreme Tornado Tours at www.extremetornadotours.com
Our Guest
Ada Monzón, Chief Meteorologist WIPR-TV, Puerto Rico
Ada Monzón is the first female meteorologist in Puerto Rico and an expert in hurricanes and tropical weather. She is an American Meteorological Society (AMS) Fellow Awardee and Broadcaster of the Year. Ada is also the Founder of the EcoExploratorio: Puerto Rico Science Museum and her messaging before, during and after Hurricane Maria reached over 31 million viewers.
She finished her Bachelor's Degree in Mathematics from the University of Puerto Rico-Rio Pierdas and her Master's Degree in Meteorology from Florida State University.
Follow Ada on social media:
Atmosphere Weather App is the Official Weather App of the Storm Front Freaks on iOS and Android
To learn more about the Tornado Trackers visit them at www.TornadoTrackers.org
Visit Helicity.co for our Storm Front Freaks lineup of merchandise. Use code: SFF at check-out for 5% off your entire order
Get hooked on tornado history at www.TornadoTalk.com
Wx Resources Links
Weather Fools Links
Submit your questions or comments about this show to questions@stormfrontfreaks.com and we may read it on our next episode!
Next episode (76), we'll have Minnesota Twins Meteorologist, Mace Michaels.
Credits
Opening Music: Brett Epstein
Closing Music: Gabe Cox
Other Music: "Pecos Hank" Schyma from El Reno Blues