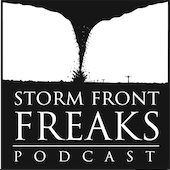 In This Episode
Guests: Storm Chasers Aaron Rigsby and Greg Johnson
Tracker Chat with the Tornado Trackers – Chasing on a Budget
Lightning Round: Match Game
Tornado Talk with Jen Narramore – 1957 Ruskin Heights F5 Tornado
#WeatherFools-We present the fools doing stupid things in weather situations
Freak Fan Box - we check in with our fans
Brought to you by Extreme Tornado Tours at www.extremetornadotours.com
Our Guests
Aaron Rigsby, Storm Chaser
Aaron has been chasing storms for 8 years, including category 5 hurricane Michael, Cat 4 Harvey, the historic buffalo blizzard, and over 100 tornadoes including the Pilger Nebraska twin EF4 tornadoes. Aaron is a professional photographer and when he's not chasing storms, he's chasing landscapes to photograph.
Greg Johnson, Storm Chaser
Greg Johnson, is a former guest on Episode 43 and one of North America's top professional storm-chasers and severe weather experts.  He is also an accomplished photographer, speaker and workshop leader. Having graduated from Canada's renowned Acadia University, Greg is also a part of the Tornado Hunters television series currently on Netflix.
Follow Aaron Rigsby:
Follow Greg Johnson:
Drive Weather App is from the family of Official Weather Apps of the Storm Front Freaks on iOS and Android
To learn more about the Tornado Trackers visit them at www.TornadoTrackers.org
Visit Helicity.co for our Storm Front Freaks lineup of merchandise.  Use code: SFF at check-out for 10% off your entire order
Get hooked on tornado history at www.TornadoTalk.com
Weather Fools Links
Submit your questions or comments about this show to questions@stormfrontfreaks.com and we may read it on our next episode!
Next Episode records on May 30.  Guest TBA.
Credits
Opening Music: Brett Epstein
Closing Music: Gabe Cox
Other Music: "Pecos Hank" Schyma from El Reno Blues