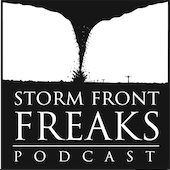 In This Episode
Guests: Janice Dean, Senior Meteorologist at FOX News and author of "Mostly Sunny"
Tracker Chat with the Tornado Trackers – Best Practices on Best Chase Day pt 3
Lightning Round: Name That Tune-Classic Rock
Tornado Talk with Jen Narramore – 1966 Candlestick Park, Mississippi F5
#WeatherFools-We present the fools doing stupid things in weather situations
Wx Resources-We share some great weather websites, equipment, books, etc.
Our Guest
Janice Dean, Senior Meteorologist-FOX and Friends (FOX News) and Author 
Janice is a native of Ontario, Canada.  She began her career journey working as morning show host and reporter at am Ottawa-based radio station.  She joined Fox Network in January 2004.  Janice now holds the title of Senior Meteorologist for Fox News and can be seen weekday mornings on Fox & Friends. 
Inducted into the Meteorologist Hall of Fame on January 1, 2017 in Punxsutawney, Pennsylvania, she has also authored a series of children's books titled "Freddy the Frogcaster" and most recently her autobiography, "Mostly Sunny".
Follow Janice Dean and find "Mostly Sunny":
Atmosphere Weather is from the family of the Official Weather Apps of the Storm Front Freaks and available on iOS and Android
To learn more about the Tornado Trackers visit them at www.TornadoTrackers.org
Visit Helicity.co for our Storm Front Freaks lineup of merchandise.  Use code: SFF at check-out for 10% off your entire order
Get hooked on tornado history at www.TornadoTalk.com
Weather Fools Links
Wx Resources Links
Submit your questions or comments about this show to questions@stormfrontfreaks.com and we may read it on our next episode!
Next Episode records on August 8th we have AccuWeather Extreme Meteorologist Reed Timmer.
Credits
Opening Music: Brett Epstein
Closing Music: Gabe Cox
Other Music: "Pecos Hank" Schyma from El Reno Blues