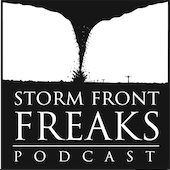 In This Episode
Guest: Dr. Elizabeth Austin, Forensic Meteorologist, President and Founder of WeatherExtreme, Ltd. and Author, Treading on Thin Air.

Lightning Round: Name That TV Tune

The team discusses the general public's understanding of their local geography when it comes to weather forecasts and storm warnings

Weather Fools: We share what some people are doing in severe weather situations

WxResources: We provide some great sites, apps and equipment

Listener Questions and Comments

Upcoming scheduled guests for 2017
Storm Front Freaks RAW – Unedited video of our podcast shows with all the behind the scenes footage during our breaks (PG-13 for possible language)
WINNER of our holiday shopping giveaway: Red Cross Emergency Preparedness Kit and Weather Radio goes to Twitter account @Matt8126 - Congratulations!
Our Guest
Dr. Elizabeth Austin, Forensic Meteorologist, President and Founder of WeatherExtreme, Ltd., and Author of Treading on Thin Air
Dr. Elizabeth Austin is a world-renowned atmospheric physicist and the founder and president of WeatherExtreme Ltd. She is one of the foremost experts on the worldwide impact of weather and extreme weather. She is also regarded as one of the world's leading forensic meteorologists, Elizabeth's expert witness experience includes civil and criminal cases – state and Federal actions in the U.S. and Worldwide. She has worked and counseled on well over 1,500 cases –ranging from aviation, wildfires, auto accidents, agriculture, kite surfing, boating, avalanches, skiing accidents and tornadoes and hurricanes. Elizabeth has acted as personal advisor and climate & weather expert for such distinguished clients as NASA, Federal Express, Air France, Rockwell Collins, Time Warner, Southern California Edison, The United Nations and the Department of Justice to mention a few.
Knowing Your Geography for Weather Forecasts and Storm Warnings
Weather Fools Links
Phil: Portland, Oregon Snowstorm Traffic & Drivers
MJ: UK Weatherman Points Out Phallic Looking Snowstorm
WxResources Links
Phil: Waze Smartphone GPS
Jen: Drought Monitor
MJ: CDC Natural Disasters and Severe Weather Site
Submit your questions or comments to questions@stormfrontfreaks.com and we may read it on our next episode!
Credits
Opening and Closing Music: Andrew Slotta