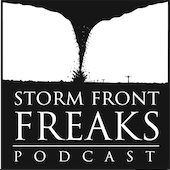 In this Episode
Guest: Ari Sarsalari, Meteorologist on The Weather Channel App's "The Ari Effect"

Lightning Round: Drummer Switch

Titan U Minute with Chris Sanner (TBA)

The team discusses the future of weather media

Brady's Storm School: Lightning Safety

Wx Resources: We provide some great weather sites, apps and equipment

Weather Fools: We share the foolish things people do in bad weather situations

Our next guest/show
HAPPY 1st BIRTHDAY to Storm Front Freaks Podcast
Our Guest
Ari Sarsalari, Meteorologist on The Weather Channel App's "The Ari Effect"
On-Camera meteorologist at The Weather Channel and host of The Ari Effect. Specializing in severe weather coverage. Graduate of The University of Wisconsin-Madison. Bachelor's Degree in Atmospheric and Oceanic Science.
Sponsor: www.SevereStreaming.com of www.SevereStudios.com
Titan U Minute with Chris Sanner: www.TorndaoTitans.com
Article: Report: Future of the local TV market by Bill Va
Sponsor: www.WeatherProShop.com of Severe Weather Center
WxResources Links
Dina: http://www.wrh.noaa.gov/map/
Kim: http://www.hurricanehunters.com
Weather Fools Links
Dina: Reporter Sledding Accident
Brady: Russian Weather Woman Bikini Broadcast
Submit your questions or comments about this show to questions@stormfrontfreaks.com and we may read it on our next episode!
Next episode, our guest will be Storm Chaser and former co-star of Tornado Chasers, Dick McGowan
Credits
Opening and Closing Music: Andrew Slotta