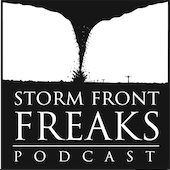 In this Episode
Guest: Mike Olbinski, Storm Chaser Photographer, Author and Emmy Winning Filmmaker

Lightning Round: Star Wars Trivial Pursuit

Titan U Minute with Chris Sanner: Storm Mode

The team discusses what is or isn't too much storm photo editing

Brady's Storm School: Severe Weather Warnings

Weather Fools: We share the foolish things people do in bad weather situations

Wx Resources: We provide some great weather sites, apps and equipment

Our next guest/show
Article: The Storm Chasers To Follow On Instagram by Laura Mallonee
Our Guest 
Mike Olbinski, Storm Chaser Photographer, Author of Storm Chaser and Emmy Winning Filmmaker
Mike Olbinski calls himself a storm-chasing wedding photographer, but filmmaker can also added to the title. He's based out of Phoenix, Arizona, and when he's not shooting weddings both here in the U.S. and internationally, he's chasing storms across the desert southwest and also the Central Plains. Apart from loving still photography of lightning, tornadoes and almost any kind of weather, Mike creates time-lapse films a few times a year. His work has been seen across the world, in commercials, documentaries, magazines and even Thor: The Dark World. He tries to maintain his sanity while doing this full-time and being a husband and father of three beautiful children.
Mike Olbinski Photography on Facebook
Sponsor: www.SevereStreaming.com of www.SevereStudios.com
Titan U Minute with Chris Sanner: www.TorndaoTitans.com
Sponsor: www.WeatherProShop.com of Severe Weather Center
Weather Fools Links
Dina: On-Air Meteorologist Fails
WxResources Links
Dina: www.intellicast.com
Phil: www.theweatherprediction.com
Mike: Lightning Trigger IV
Mike's Storm Chaser book on Amazon
Submit your questions or comments about this show to questions@stormfrontfreaks.com and we may read it on our next episode!
Next episode, our guest will be The Weather Channel (TWC) digital Meteorologist, Ari Sarsalari and his wife, TWC Social Media Specialist, Jen Watson. Plus other surprises to celebrate our 1 year anniversary!
Credits
Opening and Closing Music: Andrew Slotta