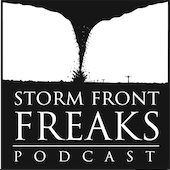 In This Episode
Guest: Greg Johnson, Storm Chaser and Co-Star of Tornado Hunters TV Series
Lightning Round: Guess the Famous Canadian
Titan U Minute with Chris Sanner: 850 Winds
The team discusses if NWS/NOAA Weather Data should be made available to the public and Social Media Forecasters
Wx Resources: We provide some great weather sites, apps and equipment
Weather Fools: We share the foolish things people do in bad weather situations
Listener/Viewer Comments and Questions
Who will be our next guest?
Our Guest
Greg Johnson, Storm Chaser and star of Tornado Hunters TV Series
Greg Johnson, one of North America's top professional storm-chasers and severe weather experts, is also an accomplished photographer, speaker and workshop leader. Having graduated from Canada's renowned Acadia University.
With over ten years experience, Johnson enjoys chasing classic prairie thunder and lightning storms, tornados, hurricanes, blizzards, and plans to continue traveling the world year-round to satisfy his appetite for capturing extreme weather.
Greg was selected as one of Canada's top 100 explorers by Canadian Geographic Magazine.
Titan U Minute with Chris Sanner:  www.TorndaoTitans.com
WxResources Links
Weather Fools Links
Submit your questions or comments about this show to questions@stormfrontfreaks.com and we may read it on our next episode!
Next episode (44), our guest will be ABC's Good Morning America Chief Meteorologist, Ginger Zee.
Credits
Opening and Closing Music:  Andrew Slotta