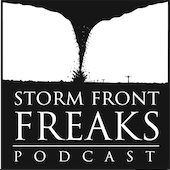 In This Episode
Guest: Dan Robinson, storm chaser, photographer and creator of stormhighway.com
Lightning Round: The Price is Right – Storm Front Freaks edition
Titan U Minute with Chris Sanner: Supercell types and tornadoes 
The team and Dan discuss icy/winter storm road conditions and why people don't prepare
Wx Resources: We provide some great weather sites, apps and equipment
Weather Fools: We share the foolish things people do related to weather
Listener/Viewer Comments and Questions
What's on our next show?
5 Weeks of Christmas Giveaways – www.twitter.com/stormfrontfreak or www.facebook.com/stormfrontfreaks
Mark Jelinek Survey – bit.ly/StormFrontFreaks-WRN
Our Guest
Dan Robinson, storm chaser and photographer.
Dan is a year-round storm chaser and photographer for the last 25 years, covering St. Louis, the Midwest, the Great Plains and beyond. His goal is to capture nature's dramatic side, and in doing so, provide visitors to his site (stormhighway.com) with educational information and exciting photography/video about severe storms and extreme weather. He specializes in capturing imagery and video of tornadoes, lightning, St. Louis, MO and the Gateway Arch, storms and all types of extreme weather. He also sells fine art prints of his work on his site.
Icy Road Discussion – Dan's site – www.icyroadsafety.com
Titan U Minute with Chris Sanner: www.TorndaoTitans.com
WxResources Links
Weather Fools Links
Submit your questions or comments about this show to questions@stormfrontfreaks.com and we may read it on our next episode!
Next episode (42), we'll chat with storm chaser Jeff Piotrowski.
Credits
Opening and Closing Music: Andrew Slotta