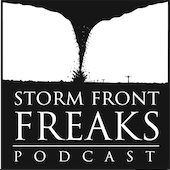 In This Episode
Guest: Minh Phan & Castle Williams of Weather Hype
Lightning Round: Newlywed Game
Titan U Minute with Chris Sanner: 3 Best Places to Chase Storms
National Weather Podcast Month
We discuss the future of video/images in severe weather communication
Wx Resources: We provide some great weather sites, apps and equipment
Weather Fools: We share the foolish things people do in bad weather situations
Listener/Viewer Comments and Questions
Who will be our next guest?
Sponsor: Danner Boots at www.Danner.com
Our Guests
Minh Phan and Castle Williams, Weather Hype Podcast
WeatherHype is a podcast started by two besties who love weather and its connections to people every single day.
Minh Phan received his Masters degree in Geography from East Carolina University in 2017. Minh has a Bachelor of Science degree in Geography with a Certificate in Atmospheric Science from the University of Georgia. Minh's master's thesis focuses on mobile weather applications on smartphone devices and understanding how people interpret, perceive, and utilize this information on a daily basis. Minh has worked with many different organizations, including the National Weather Service to develop infographics and visuals for the enhancement of NWS digital media communication. He has also worked with the Federal Emergency Management Agency (FEMA) and with the National Park Service (NPS) in emergency management and climate change communications.
Castle Williams is currently a second year Ph.D. Student in the Department of Geography at the University of Georgia. He holds both a Bachelor of Science  and Masters degree in Geography (with an emphasis and certificate in the Atmospheric Sciences), as well as a Bachelor of Science degree in Psychology from the University of Georgia. His overall research interests include examining how we communicate weather terminology and hazards to the public as well as weather-related decision making and the societal impacts of weather.
Sponsor: www.zoomradar.com
Titan U Minute with Chris Sanner: www.TorndaoTitans.com
Sponsor: www.severeweathercenter.com
Sponsor: www.weatherproshop.com
Wx Resources Links
Weather Fools Links
Submit your questions or comments about this show to questions@stormfrontfreaks.com and we may read it on our next episode!
Next episode (50), we'll be with NOAA National Storms Laboratory Senior Scientist, Harold Brooks.
Credits
Partner Background Music: www.Jukedeck.com
Opening and Closing Music: Andrew Slotta