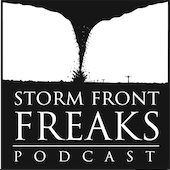 In This Episode
Guest: John Wetter, President of SpotterNetwork.org
Lightning Round: Double Jeopardy (Minnesota Sayings)
Titan U Minute with Chris Sanner: Forecast Models Part 5
National Weather Podcast Month and Weather-Ready Nation Ambassadors Tips
We discuss our favorite weather models, when to use them, and where to find them.
Wx Resources: We provide some great weather sites, apps and equipment
Weather Fools: We share the foolish things people do in bad weather situations
Listener/Viewer Comments and Questions
Who will be our next guest?
Sponsor: Danner Boots at www.Danner.com
Sponsor: Severe Studios and www.SevereStreaming.com
Our Guest
John Wetter, President of Spotter Network
John is the Technology Services Manager for Hopkins School District in the Greater Minneapolis/St.Paul area and current President of SpotterNetwork.
The SpotterNetwork brings storm spotters, storm chasers, coordinators and public servants together in a seamless network of information. It provides accurate position data of spotters and chasers for coordination/reporting and provides ground truth to public servants engaged in the protection of life and property.        
Titan U Minute with Chris Sanner:  www.TorndaoTitans.com
Weather Model Resource Links:
Wx Resources Links
Weather Fools Links
Minnesota Severe Storms Conference
Submit your questions or comments about this show to questions@stormfrontfreaks.com and we may read it on our next episode!
Next episode (49), we'll be with the co-hosts of Weather Hype, Mihn Phan and Castle Williams to discuss severe weather communication to the public.
Credits
Partner Background Music:  www.Jukedeck.com
Opening and Closing Music:  Andrew Slotta