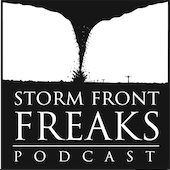 In This Episode
Guest: Eric Salna – Meteorologist and CEO of Extreme Weather Experience
Helicity Designs / What are you drinking? Shirt and discount code
Lightning Round: Hurricane or Supermodel
Titan U Minute with Chris Sanner
We discuss how accurate are we really on 10-14-40 day forecasts
Wx Resources: We provide some great weather sites, apps and equipment
Weather Fools: We share the foolish things people do in bad weather situations
Listener/Viewer Comments and Questions
Who will be our next guest?
Visit www.HelicityDesigns.com for our Storm Front Freaks "What Are You Drinking?" T-shirt. Use code: STORM at check-out for 5% off your entire order
Our Guest 
Erik Salna, Meteorologist and CEO – Extreme Weather Experience
Erik is a Meteorologist and currently Associate Director of Visualization, Communication, Public Education, and Engagement for the Extreme Events Institute and the International Hurricane Research Center at Florida International University in Miami.
Erik is also CEO of Extreme Weather Experience, a one-of-a-kind concept to develop a national network of weather education-entertainment (edutainment) through experiential, immersive, interactive, hands-on weather-themed attractions, rides and exhibits
Titan U Minute with Chris Sanner: www.TorndaoTitans.com
Wx Resources Links
Weather Fools Links
Submit your questions or comments about this show to questions@stormfrontfreaks.com and we may read it on our next episode!
Next episode (52), we'll be with Christy Bechtel, Meteorologist and Director of Business Development for Baron Weather
Credits
Opening and Closing Music: Andrew Slotta