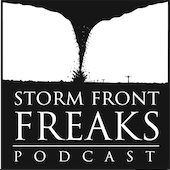 In This Episode
Guest: Harold Brooks, Sr. Research Scientist NOAA's Severe Storms Lab
Helicity Designs / Storm Front Freaks Line of Merchandise
Lightning Round: Don't Forget the Quote-Monty Python's Holy Grail
Titan U Minute with Chris Sanner
We discuss if the National Weather Service should get into more media of forecasts and severe storms or get out
Wx Resources: We provide some great weather sites, apps and equipment
Weather Fools: We share the foolish things people do in bad weather situations
Listener/Viewer Comments and Questions
Who will be our next guest?
Visit www.HelicityDesigns.com for our Storm Front Freaks "Tour" shirt celebrating our first 50 episodes and guests. Use code: FREAKS at check-out for 5% off your entire order
Our Guest
Harold Brooks, Sr. Research Scientist at NOAA's Severe Storms Laboratory
Harold is a meteorologist and Senior Scientist with the NOAA Severe Storms Laboratory whose research is concentrated on severe convective storms and tornadoes, particularly severe weather climatology, as well as weather forecasting.
Titan U Minute with Chris Sanner: www.TorndaoTitans.com
Wx Resources Links
Weather Fools Links
Submit your questions or comments about this show to questions@stormfrontfreaks.com and we may read it on our next episode!
Next episode (51), we'll be with Erik Salna, CEO of the edu-tainment concept www.extremeweatherexperience.com
Credits
Opening and Closing Music: Andrew Slotta