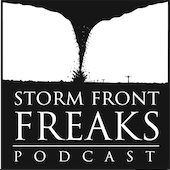 In This Episode
Guest: Women in Chasing #2 with Karen Kosiba of VORTEX 2
Helicity Designs and discount code
Lightning Round: Head to Head with Rolling Stone's Top TV Series
Partner and Promote with Storm Front Freaks Podcast
Wx Resources: We share some great weather items for your use
Believe It Or Not Weather Stories: Crazy weather stories
Who will be our next guest?
Visit www.HelicityDesigns.com for our Storm Front Freaks lineup of merchandise. Use code: PODCAST at check-out for 5% off your entire order
Our Guest
2nd in our "Women in Chasing" Series
Karen Kosiba, Atmospheric Scientist with DOW Projects
Karen Kosiba is an atmospheric scientist at the Center for Severe Weather Research in Boulder, CO.
A strong believer in experiencing weather from the inside of a Doppler on Wheels (DOW) Radar truck, she has participated in a multitude of field projects, including: Radar Observations of Tornadoes and Thunderstorms Experiment (ROTATE), Hurricanes and Landfall (HAL), the Verification of the Origins of Rotation in Thunderstorms Experiment (VORTEX2), and Long Lake-Axis-Parallel Lake-Effect Storms Project (LLAP) to name a few.
She received a B.S. in physics at Loyola University, a M.S. in physics and a M.A.T. in teacher education at Miami University, and a Ph.D. in atmospheric science at Purdue University.
Partner with the Freaks 
If interested in partnering with Storm Front Freaks Podcast and promoting your product or service to thousands of weather fans, contact phil@stormfrontfreaks.com
Wx Resources Links
Believe It Or Not Weather Stories
Submit your questions or comments about this show to questions@stormfrontfreaks.com and we may read it on our next episode!
Next episode (61), will be the Aussie Storm Chaser, Daniel Shaw
Credits 
Opening Music: Brett Epstein
Closing Music: Gabe Cox
Other Music: "Pecos Hank" Schyma