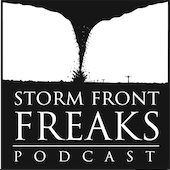 In This Episode
Guest: Tom Moore, original member of The Weather Channel
Helicity Designs and discount code
Lightning Round: Who Wants To Be A Millionaire-Braves Edition
Partner and Promote with Storm Front Freaks Podcast
Weather Fools: We share the foolish things people do in bad weather situations
Funny Weather Memes: Memes you can use with your friends
Who will be our next guest?
Visit www.HelicityDesigns.com for our Storm Front Freaks lineup of merchandise.  Use code: PODCAST at check-out for 5% off your entire order
Our Guest
Tom Moore, Original Member of The Weather Channel and Lead Meteorologist at Weather Concierge
One of the original members beginning in 1982, Tom spent over 30 years at The Weather Channel with 10 of them as an on-air meteorologist.  Now he has helped launch a private weather service, Weather Concierge, as their Senior Meteorologist.  Tom's time with others at the beginning of The Weather Channel have recently been chronicled in the book Weather Channel Pioneers.
Partner with the Freaks
If interested in partnering with Storm Front Freaks Podcast and promoting your product or service to thousands of weather fans, contact phil@stormfrontfreaks.com
Weather Fools Links
Funny Weather Memes
Submit your questions or comments about this show to questions@stormfrontfreaks.com and we may read it on our next episode!
Next episode (60), will be the 2nd in our "Women in Chasing" series with VORTEX Program Atmospheric Scientist, Karen Kosiba
Credits
Opening Music: Brett Epstein
Closing Music: Gabe Cox