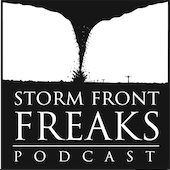 In This Episode
Guest: Joe Moravsky, Freelance Meteorologist and American Ninja Warrior
Helicity Designs and discount code
Lightning Round: Toy or Obstacle
Partner with the Storm Front Freaks
Wx Resources where we share some great weather-related websites, books, equipment, and more!
Funny Weather Memes you will want to use with your friends on social media
Who will be our next guest?
Our Guest
Joe Moravsky, Freelance TV Meteorologist and finalist on NBC's American Ninja Warrior
Famous for competing in season five through ten of NBC's American Ninja Warrior and being the last standing twice, this obstacle course expert is also notable for his work as a weather forecaster. Joe studied meteorology at Western Connecticut State University
Visit www.HelicityDesigns.com for our Storm Front Freaks lineup of merchandise.  Use code: SFF at check-out for 5% off your entire order
Partner with the Storm Front Freaks.  To learn of the opportunities to partner with us, visit http://www.stormfrontfreaks.com/partner-with-us.html
Wx Resources Links
Funny Weather Meme Links
Submit your questions or comments about this show to questions@stormfrontfreaks.com and we may read it on our next episode!
Next episode (70), we'll have Nathan Moore and Cary Meltzer from the storm video brokers SVL Media.
Credits
Opening Music: Brett Epstein
Closing Music: Gabe Cox
Other Music: "Pecos Hank" Schyma from El Reno Blues