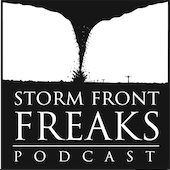 In This Episode
Guest: Jaclyn Whittal, Meteorologist The Weather Network and co-star of Storm Hunters
Helicity Designs and discount code
Lightning Round: Cash Cab-Christmas Songs
Partner with the Storm Front Freaks
#WeatherFools where we put some people doing stupid things in weather…under the bus
Weather Trollbot 5000 interprets the thoughts of our weather friends to the trolls on social media
Who will be our next guest?
Our Guest
Women In Chasing Series with Jaclyn Whittal, Digital Meteorologist with The Weather Network and host of Stormhunters
Born to be in front of the camera and performing, Jaclyn is the "severe weather junkie" on The Weather Network team.  
Jaclyn joined The Weather Network in 2012 with an already impressive background.  She started at Rogers TV hosting Daytime, worked at two radio stations in Barrie, interned in weather centre at City TV, worked for Global Regina and Global Toronto weather centers.
Jaclyn was a singer and performer for 12 years before the broadcasting bug caught on and she moved on to study meteorology and is a Mississippi State University Operational Meteorology program graduate.  Jaclyn is part of the Storm Hunters team driving all over tornado alley bringing us reports of volatile weather patterns.
Visit www.HelicityDesigns.com for our Storm Front Freaks lineup of merchandise. Use code: SFF at check-out for 5% off your entire order
Partner with the Storm Front Freaks. To learn of the opportunities to partner with us, visit http://www.stormfrontfreaks.com/partner-with-us.html
#WeatherFools Links:
Submit your questions or comments about this show to questions@stormfrontfreaks.com and we may read it on our next episode!
Next episode (69), is our Christmas gift to you as we host Meteorologist and American Ninja Warrior, Joe Moravsky.
Credits
Opening Music: Brett Epstein
Closing Music: Gabe Cox
Other Music: "Pecos Hank" Schyma from El Reno Blues