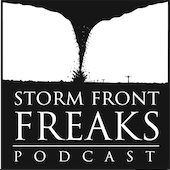 In This Episode
Guest: Skip Talbot, Storm Chaser
Tracker Chat with the Tornado Trackers – Favorite States for Chasing
Helicity Designs and discount code
Lightning Round: Family Feud Roach Motels
Tornado Talk with Jen Narramore – 2009 Lone Grove, OK EF4
Wx Resources – We share some great weather related resources
Who will be our next guest?
Skip Talbot, Storm Chaser, Springfield, IL
Skip Talbot is a software and graphics developer who started roaming the Great Plains and Midwest in search of supercells and tornadoes in 2003. He's logged over 100,000 storm chasing miles and has documented over 90 tornadoes. Skip has applied his skills to his passion for storm chasing, developing radar visualizations with video and data overlays to study different events like the 2013 El Reno tornado. He also helps run a non-profit charity for storm victims called Storm Assist.
To learn more about the Tornado Trackers visit them at www.TornadoTrackers.org
Visit www.HelicityDesigns.com for our Storm Front Freaks lineup of merchandise. Use code: SFF at check-out for 5% off your entire order
Get hooked on tornado history at www.TornadoTalk.com
Wx Resources Links
Submit your questions or comments about this show to questions@stormfrontfreaks.com and we may read it on our next episode!
Next episode (73), as part of our "Coast to Coast with your Favorite TV Meteorologists" series, we'll have Chief Meteorologist with Fox29/NBC4 in San Antonio, Brad Sowder with us!
Credits
Opening Music: Brett Epstein
Closing Music: Gabe Cox
Other Music: "Pecos Hank" Schyma from El Reno Blues