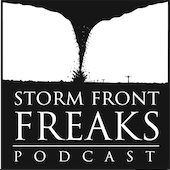 In This Episode
Guest: Matt Zaffino, Chief Meteorologist at KGW-TV, Portland
Tracker Chat with the Tornado Trackers – Chasing Alone
Helicity Designs and discount code
Lightning Round: Cat Scents
Tornado Talk with Jen Narramore – 1991 Andover F5
#WeatherFools – We share examples of people doing foolish things in weather situations
Who will be our next guest?
Matt Zaffino, Chief Meteorologist at KGW-TV in Portland, OR
Since 1996, Matt Zaffino has been the Chief Meteorologist at the NBC affiliate KGW-TV in Portland, Oregon. A winner of 3 Emmy Awards for outstanding achievement in weathercasting, Matt was inducted, in 2016, into the prestigious National Academy of Television Arts and Sciences (NATAS) Silver Circle, for 25+ years of outstanding service in broadcasting in the Northwest.
To learn more about the Tornado Trackers visit them at www.TornadoTrackers.org
Visit www.HelicityDesigns.com for our Storm Front Freaks lineup of merchandise. Use code: SFF at check-out for 5% off your entire order
Get hooked on tornado history at www.TornadoTalk.com
#WeatherFools Links:
Submit your questions or comments about this show to questions@stormfrontfreaks.com and we may read it on our next episode!
Next episode (73), we'll have storm chaser Skip Talbot with us!
Credits
Opening Music: Brett Epstein
Closing Music: Gabe Cox
Other Music: "Pecos Hank" Schyma from El Reno Blues