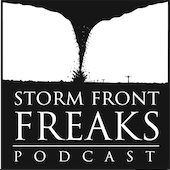 In This Episode
Guest: James Spann, Chief Meteorologist-ABC 33/40 and author of "Weathering Life"
Tracker Chat with the Tornado Trackers – Weather Models
Lightning Round: Top 10 AC-Adult Contemporary Hit's of the 80's
Wx Resources-We share some great weather websites, equipment, books, etc.
#WeatherFools-We present the fools doing stupid things in weather situations
James Spann, Chief Meteorologist, ABC 33/40 in Birmingham, AL
James is the Chief Meteorologist for ABC 33/40 in Birmingham, AL. In all, James has been a television weather anchor for over 37 years.  A multiple Emmy winner, James has received the two highest awards in the nation for a broadcast meteorologist.  One is "Broadcaster of the Year" by the NWA, the other was the AMS "Award for Broadcast Meteorology".  A panelist on the Weather Brains podcast, James has recently authored and released an autobiography titled Weathering Life.
Follow James Spann and find "Weathering LIfe":
Atmosphere Weather is from the family of the Official Weather Apps of the Storm Front Freaks and available on iOS and Android
To learn more about the Tornado Trackers visit them at www.TornadoTrackers.org
Visit Helicity.co for our Storm Front Freaks lineup of merchandise.  Use code: SFF at check-out for 10% off your entire order
Wx Resources Links
#WeatherFools Links
Submit your questions or comments about this show to questions@stormfrontfreaks.com and we may read it on our next episode!
Next Episode records on September 5th we have author of "The Weather Machine", Andrew Blum
Credits
Opening Music: Brett Epstein
Closing Music: Gabe Cox
Other Music: "Pecos Hank" Schyma from El Reno Blues