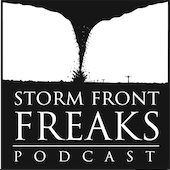 In This Episode
Guests: Reed Timmer, Extreme Meteorologist-Accuweather
Tracker Chat with the Tornado Trackers – Favorite Video and Photo Editing Apps
Lightning Round: Family Feud-Famous Dogs
#WeatherFools-We present the fools doing stupid things in weather situations
Our Guest
Reed Timmer, Extereme Meteorologist-Accuweather
Reed Timmer has chased more than 1000 tornadoes and hurricanes, becoming one of the world's leading experts on severe weather forecasting, research, and safety. He completed a PhD in Meteorology at The University of Oklahoma in 2015 after starring on Discovery Channel's hit TV series, Storm Chasers.  Presently, Reed provides live coverage from severe weather across the world as the lead storm chaser for Accuweather since April 2015.  For Timmer, the ultimate goal is to better understand the complex dynamics behind tornadoes and other extreme storms so safer and stronger structures can be designed.
Follow Reed Timmer:
Atmosphere Weather is from the family of the Official Weather Apps of the Storm Front Freaks and available on iOS and Android
To learn more about the Tornado Trackers visit them at www.TornadoTrackers.org
Visit Helicity.co for our Storm Front Freaks lineup of merchandise.  Use code: SFF at check-out for 10% off your entire order
More information on Mid-Atlantic Chaserson visit www.midatlanticchasercon.com
More information on Indiana Chaser Convention visit www.indchasercon.com
Weather Fools Links
Submit your questions or comments about this show to questions@stormfrontfreaks.com and we may read it on our next episode!
Next Episode records on August 22nd we have James Spann, Author and Chief Meteorologist at ABC affiliate in Birmingham, Alabama.
Credits
Opening Music: Brett Epstein
Closing Music: Gabe Cox
Other Music: "Pecos Hank" Schyma from El Reno Blues