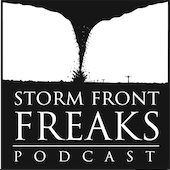 In This Episode
Guest: Andrew Blum, Author of "The Weather Machine"
Tracker Chat with the Tornado Trackers – Favorite Chase Day Eateries
Lightning Round: Trivial Pursuit
#WeatherFools-We present the fools doing stupid things in weather situations
Weather Trollbot 5000-Interprets what our weather friends were really thinking when responding to nasty social media trolls
Our Guest
Andrew Blum, Author of "The Weather Machine"
Andrew Blum is an author and journalist, writing about technology, infrastructure, architecture, design, cities, art and travel. As a magazine journalist, he has published dozens of feature stories in publications including Time, WIRED, Popular Science, Vanity Fair, and The New York Times. His previous book, Tubes: A Journey to the Center of the Internet, was the first ever book-length look at the physical infrastructure of the Internet. His new book, The Weather Machine: A Journey Inside the Forecast, was published in June 2019.
Purchase "The Weather Machine" on Amazon
Follow Andrew on Social Media:
To learn more about the Tornado Trackers visit them at www.TornadoTrackers.org
Visit Helicity.co for our Storm Front Freaks lineup of merchandise.  Use code: SFF at check-out for 10% off your entire order
To purchase tickets and learn more about the Mid-Atlantic ChaserCon, visit www.midatlanticchasercon.com
#WeatherFools Links
Submit your questions or comments about this show to questions@stormfrontfreaks.com and we may read it on our next episode!
Next Episode records on October 3rd we have NWS-Ft Worth Warning Coordination Meteorologist Jennifer Dunn
Credits
Opening Music: Brett Epstein
Closing Music: Gabe Cox
Other Music: "Pecos Hank" Schyma from El Reno Blues