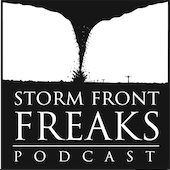 In This Episode
Guests: Chris White, Organizer of Mid-Atlantic ChaserCon and JT Cooper, Organizer of Indiana ChaserCon
Tracker Chat with the Tornado Trackers – Diary of Hurricane Dorian Chase
Lightning Round: Hollywood Squares
#WeatherFools-We present the fools doing stupid things in weather situations
Our Guests
Chris White, Storm Chaser and Organizer of the Mid-Atlantic ChaserCon
JT Cooper, Storm Chaser and Organizer of the Indiana Storm Chasers Convention
Chris White began chasing storms in May 2002.  After retiring as a civilian in the Defense Department, Chris joined the Virginia Tech Severe Weather Field Course (aka the "Hokie Stormchasers") as a volunteer from 2011 to 2018 and founded the Mid-Atlantic ChaserCon in 2018.
Joseph (JT) Cooper is a meteorologist & Co-Owner at TDS Weather. He studied meteorology at the College of DuPage & Mississippi State University. JT has been a storm chaser for 17 years and is also the founder & co-organizer of the Indiana Storm Chasers Convention started in 2011.
Follow Chris White and the Mid-Atlantic ChaserCon
Follow JT Cooper and the Indiana ChaserCon
*FOR A 20% DISCOUNT ON INDIANA CHASERCON REGISTRATION ($20) USE DISCOUNT CODE LINK:  http://indchasercon.com/sff
To learn more about the Tornado Trackers visit them at www.TornadoTrackers.org
Visit Helicity.co for our Storm Front Freaks lineup of merchandise.  Use code: SFF at check-out for 10% off your entire order
#WeatherFools Links:
Submit your questions or comments about this show to questions@stormfrontfreaks.com and we may read it on our next episode!
Next Episode records on September 19th we have author of "The Weather Machine", Andrew Blum
Credits
Opening Music: Brett Epstein
Closing Music: Gabe Cox
Other Music: "Pecos Hank" Schyma from El Reno Blues