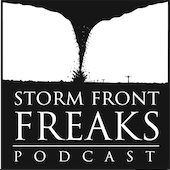 In This Episode
Guest: Michael Koch, Storm and Hurricane Chaser
Mid-Atlantic ChaserCon Information
Lightning Round: Hurricane or Super Model?
Indiana ChaserCon Information
#WeatherFools-We present the fools doing stupid things in weather situations
Weather's Believe It or Not-Strange but true weather stories
Our Guest
Michael Koch, Storm and Hurricane Chaser with Weather Going Wild
A long island native, Michael and his father Richard have shared a passion, thrill, and excitement for weather since Hurricane Gloria in 1985 when Michael was seven.  They have been chasing storms side-by-side now for over a decade.  Michael studied meteorology at the State University of New York in Oswego and can be seen chasing hurricanes, tornadoes and all kinds of weather in his blue Weather Going Wild truck.
Follow Michael on Social Media:
For more information about Mid-Atlantic ChaserCon visit midatlanticchasercon.com
Visit Helicity.co for our Storm Front Freaks lineup of merchandise.  Use code: SFF at check-out for 10% off your entire order
For more information about Indiana ChaserCon and to get the 20% registration discount visit indchasercon.com/sff
#WeatherFools Links:
Weather's Believe It or Not Links:
Submit your questions or comments about this show to questions@stormfrontfreaks.com and we may read it on our next episode!
Next Episode records on October 31st we have Meteorologist in the Office of Emergency Preparedness at the University of Oklahoma, Kevin Kloesel at 9pmE/8pmCT
Credits
Opening Music: Brett Epstein
Closing Music: Gabe Cox
Other Music: "Pecos Hank" Schyma from El Reno Blues