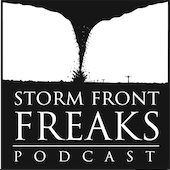 In This Episode
Guest: Jennifer Dunn, Warning Coordination Meteorologist at the NWS-Ft. Worth, Texas office
Lightning Round: Disney Speed Round
#WeatherFools-We present the fools doing stupid things in weather situations
Wx Resources-Great websites, equipment, books, or other weather resources
Our Guest
Jennifer Dunn, Warning Coordination Meteorologist, NWS-Ft. Worth and Storm Chaser
Jennifer Dunn is the Warning Coordination Meteorologist at the National Weather Service in Fort Worth, Texas.  She has chased storms since 2005 while at Texas A&M University where she received a Bachelors degree in meteorology.  Jennifer started her career as an intern at the NWS office in Corpus Christi before starting her professional career at the Ft. Worth office as a forecaster and in 2018 as the WCM.
Follow Jennifer on Social Media:
If you would like us to highlight your weather themed products or services on our 4th annual Holiday Weather Gifts Show in November, contact Phil Johnson at phil@stormfrontfreaks.com
Visit Helicity.co for our Storm Front Freaks lineup of merchandise.  Use code: SFF at check-out for 10% off your entire order
#WeatherFools Links:
WxResources Links:
Submit your questions or comments about this show to questions@stormfrontfreaks.com and we may read it on our next episode!
Next Episode records on October 17th we have Storm and Hurricane Chaser Michael Koch at 9pmET/8pmCT
Credits
Opening Music: Brett Epstein
Closing Music: Gabe Cox
Other Music: "Pecos Hank" Schyma from El Reno Blues