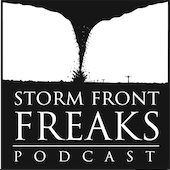 In This Episode
Guests: Janice Dean, Sr. Meteorologist FOX News
Introduce two entries for our new intro song
Helicity Designs and discount code
Lightning Round: Name that Tune-80's Metal
Mid-Atlantic ChaserCon
Titan U Minute with Chris Sanner
Discussion on how much personal information to share with audience
Mean Tweets with Janice Dean
Wx Resources: We provide some great weather sites, apps and equipment
Weather Fools: We share the foolish things people do in bad weather situations
Who will be our next guest?
Thanks to the following entries for our new intro song:
Gabe Cox-
https://www.dropbox.com/s/iawazzq8ye7c99m/SFFPodcast_IntroSong%20-%20Cut1%20Gabe%20Cox.mp3?dl=0
Brett Epstein-
https://www.dropbox.com/s/mjfafaitgw17djd/Storm%20Front%20Freaks%20Podcast%20Intro%20Brett%20Epstein.mp3?dl=0
Email us your favorite at questions@stormfrontfreaks.com
Visit www.HelicityDesigns.com for our Storm Front Freaks lineup of drinking containers. Use code: PODCAST at check-out for 5% off your entire order
Our Guest
Janice Dean, Senior Meteorologist-Fox News and Children's Author
Janice is a native of Toronto and Ottawa, Ontario. She began her career journey working as morning show host and reporter at Ottawa-based radio station CHEZ-FM.
In 1997, she became on-camera weather forecaster at television station CBOT. She became the news editor and entertainment reporter for "Imus in the Morning" and then joined Fox Network in January 2004. Janice now holds the title of Senior Meteorologist for Fox News and can be seen weekday mornings on Fox & Friends.
Inducted into the Meteorologist Hall of Fame on January 1, 2017 in Punxsutawney, Pennsylvania, she has also authored a series of children's books titled "Freddy the Frogcaster".
Titan U Minute with Chris Sanner: www.TorndaoTitans.com
Wx Resources Links
Weather Fools Links
Submit your questions or comments about this show to questions@stormfrontfreaks.com and we may read it on our next episode!
Next episode (55), we'll be with Ashley Morris, TX Emergency Manager and Tom Jenkins, Oregon Dept. of Forestry to talk VOST Groups
Credits