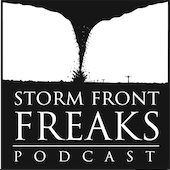 Guests:  Dina Knightly, Weather Producer for The Lift (Mobile Programming for The Weather Channel App), and Paxton Calvanese, Developer of the wx24 Pilot Aviation Weather App for iOS

Lightning ("Lightening") Round:  Competition with "Light" Questions

Storm School with Brady teaches hail formation

The team discusses Forecasting on Social Media

Weather Fools: We share our most crazy examples

Media Outbreaks:  We share our favorite photos, video or people
Dina Knightly has been a meteorologist for over 15 years both at WSI and The Weather Channel. She has also been a trainer, a met ops specialist and weather producer on "Wake Up With Al", "Weather Center Live", Weekend Recharge", "Weekend View" and an expert weather producer for all shows including, "AMHQ".
Paxton Calvanese is a private pilot, photographer and developer with a degree in Architecture. He created the wx24 Pilot Aviation Weather App to help take weather text data and convert it to a more visual and easier to read format.
Social Media Forecasting Post
Weather Fools Links
Media Outbreaks Picks
We may read it on our next episode!
Credits
Opening Music: Andrew Slotta
Closing Music: Brady Harris