Episodes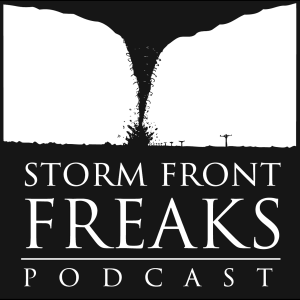 Friday Nov 25, 2022
Friday Nov 25, 2022
In This Episode
Tropical Storm Training Series Part 1: Preparing to Document a Hurricane
Brought to you by Drive Weather App
Guest: Brett Adair, Meteorologist/Storm Chaser and Brandon Clement, Storm Chaser
Girls Who Chase-Inspired to Chase
Partnered with WindStorm Products
Lightning Round - Living the Van Life
Partnered with AMS Weather Band
#weatherfools - We present the fools doing stupid things in weather situations
Next Episode's Guest
Presented by Drive Weather App - See the weather forecast along your route.  Visit driveweatherapp.com
Check out our Patreon page for exciting ways to support our podcast and interact with us more!  www.patreon.com/stormfrontfreaks
Our Guests:
Brett Adair, Meteorologist and Storm Chaser
Brett Adair is an Alabama born and raised meteorologist. Upon graduating from Mississippi State University, Brett quickly launched his career in 2016 with WeatherNationTV as a Field Meteorologist tracking dangerous storms.  He is also a business owner and operates Live Storms Media, a brokerage firm for professional videographers and storm chasers around the world.
Brandon Clement, Storm Chaser
The world's leading independent weather videographer over the past 5 years. Brandon Clement has been storm chasing and documenting natural disasters for more than 20 years. His videos have been seen by billions globally. Resides in Mississippi but travels the globe covering weather and other events.
Thanks to WindStorm Products.  Visit WindStormProducts.com
Find out more about Girls Who Chase at GirlsWhoChase.com
Thanks to AMS Weather Band.  Visit AMSWeatherBand.org
#weatherfools Links:
Submit your questions or comments about this show to questions@stormfrontfreaks.com or on our social media accounts and we may read it on our next episode!
Next episode we continue our three-part Tropical Storm Training Series.  The Weather Channel's Jim Cantore and Hurricane Man Josh Morgerman join us in the recording studio on 12/8 for Part II: Forecasting Landfall and the Eyewall.  Become a member of our patreon.com/stormfrontfreaks to tune in LIVE and watch the RAW recording.  Look for the audio podcast on your favorite podcast player the following Sunday.
Credits:
Opening Music: Brett Epstein
Closing Music: Gabe Cox
Other Music: "Pecos Hank" Schyma from El Reno Blues