Episodes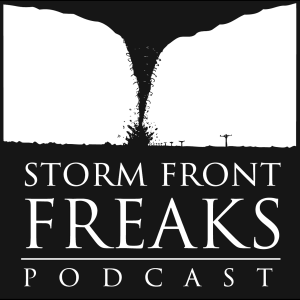 Sunday Dec 11, 2022
Sunday Dec 11, 2022
In This Episode
Tropical Storm Training Series Part 2: Forecasting Landfalls and Eyewalls
Brought to you by WindStorm Products
National Storm Chaser Summit
Guests: Jim Cantore-TWC Meteorologist and Josh Morgerman-Hurricane Chaser
Storm Chaser Safety Tip - Driving Wet Roads
Partnered with Drive Weather App
Lightning Round - Weird Things Humans Search For
Partnered with AMS Weather Band
#weatherfools - We present the fools doing stupid things in weather situations
Next Episode's Guest(s)
Presented by WindStorm Products.  Visit WindStormProducts.com
Check out our Patreon page for exciting ways to support our podcast and interact with us more!  www.patreon.com/stormfrontfreaks
Register for the National Storm Chaser Summit near Oklahoma City on February 3-5, 2023 before it closes.  Visit ChaserSummit.com
Our Guests
Jim Cantore, Meteorologist
Known for his live reports from severe weather events.  He has covered every major weather event during the past 30 years, including Hurricanes Katrina, Michael and Superstorm Sandy.  In total, Jim has now broadcast live from 110 tropical systems.
Josh Morgerman, Hurricane Chaser
Josh Morgerman is a world-renowned hurricane chaser has penetrated 67 hurricane cores and 47 hurricane eyes—both world records. He's starred in the BBC's hit TV series, Hurricane Man, and he's currently starring in the new series, Mission: Hurricane, on WeatherSpy.
Thanks to Drive Weather App - See the weather forecast along your route.  Visit driveweatherapp.com
For more storm chaser/spotter safety tips, visit the weather.gov ACES Weather Spotter Safety Program
Thanks to AMS Weather Band. Visit AMSWeatherBand.org
#weatherfools Links
Submit your questions or comments about this show to questions@stormfrontfreaks.com or on our social media accounts and we may read it on our next episode!
Next episode we conclude our three-part Tropical Storm Training Series.  Hurricane documentarians Gabe Cox and Max Olsen join us in the recording studio on 12/15 for Part III: Documenting a Hurricane.  Become a member of our patreon.com/stormfrontfreaks to tune in LIVE and watch the RAW recording.  Look for the audio podcast on your favorite podcast player the following Sunday.
Credits
Opening Music: Brett Epstein
Closing Music: Gabe Cox
Other Music: "Pecos Hank" Schyma from El Reno Blues