Episodes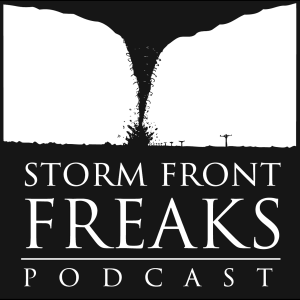 Sunday Dec 25, 2022
Sunday Dec 25, 2022
In This Episode
Tropical Storm Training Series Part 3: Documenting a Hurricane
Brought to you by the Drive Weather app
Guests: Gabe Cox and Max Olson-Storm Chasers and Filmmakers
Partnered with WindStorm Products
Storm Chaser Safety Tip - Best Parking Practices
Lightning Round - Which of These Tropical Storms Does Not Belong
Partnered with AMS Weather Band
#weatherfools - We present the fools doing stupid things in weather situations
Next Episode's Guest(s)
Presented by the Drive Weather app - See the weather forecast along your route.  Visit driveweatherapp.com
Check out our Patreon page for exciting ways to support our podcast and interact with us more!  www.patreon.com/stormfrontfreaks
Our Guests
Gabe Cox
Gabe Cox is the co-founder of Tornado Trackers, a storm chasing team dedicated to filming nature's wildest moments cinematically. Their footage has been used in a variety of TV and film media including the Netflix original series Earthstorm.  Gabe has also worked closely with state agencies to provide hurricane training videos for emergency management.
Max Olson
Max Olson is a storm chaser and videographer capturing stories via traditional methods as well as remote camera probes that he turns into short form documentary style videos.  His work has been featured on The Weather Channel, Discovery Channel, NatGeo, PBS and Netflix.
Thanks to WindStorm Products.  The largest online supplier of hurricane hardware.  Visit WindStormProducts.com
For more storm chaser/spotter safety tips, visit the weather.gov ACES Weather Spotter Safety Program
Thanks to AMS Weather Band.  Now weather enthusiasts can join meteorologists and weather professionals.  Visit AMSWeatherBand.org
#weatherfools Links
Submit your questions or comments about this show to questions@stormfrontfreaks.com or on our social media accounts and we may read it on our next episode!
Next recording will be a BONUS episode with atmospheric scientist and storm photographer Jeremy Bower who will count down his TOP 10 video episodes of Storm Front Freaks RAW on Thursday 12/29 at 9pmET/8pmCT. Become a member of our patreon.com/stormfrontfreaks to tune in LIVE and watch the RAW recording.  Look for the audio podcast on your favorite podcast player the following Sunday.  Then we return with Episode 174 on January 5th with first-time guest and tropical storm expert, Philip Klotzbach.
Credits
Opening Music: Brett Epstein
Closing Music: Gabe Cox
Other Music: "Pecos Hank" Schyma from El Reno Blues