Episodes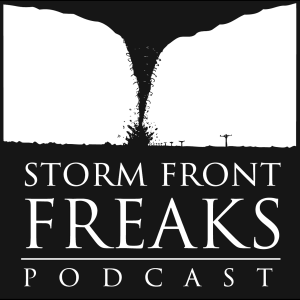 Sunday Jan 22, 2023
Sunday Jan 22, 2023
In This Episode
Brought to you by the Drive Weather app
Guests: Keith Brandt-NASA Crew Surgeon and Collin Baldacci-Firefighter/EMT
Partnered with AMS Weather Band
Storm Chaser Safety Tips
Lightning Round - Weekly Hospital
Girls Who Chase Sprint Training Webinar
#weatherfools - We present the fools doing stupid things in weather situations
"TTT" Twister Trash Trailers - We review some Twister-wannabe movie trailers
Next Episode's Guest(s)
Presented by the Drive Weather app - See the weather forecast along your route.  Visit driveweatherapp.com
Check out our Patreon page for exciting ways to support our podcast and interact with us more!  www.patreon.com/stormfrontfreaks
Our Guests
Dr. Keith Brandt
Keith Brandt is an Air Force Flight Surgeon with over 30 years of Aerospace Medicine experience and served as the USAF aeromedical liaison to NASA. After retiring from the Air Force, he returned to NASA where he has been crew surgeon for Shuttle, Soyuz, ISS, and SpaceX missions. One of his main hobbies is Amateur Radio where he has been a Skywarn Spotter since 1977 and been an Emergency Management volunteer.
Collin Baldacci
Collin Baldacci is a Firefighter/EMT in Evansville Wyoming. He's also an American Heart Association CPR & First Aid instructor. In addition to those, he has a background in Search & Rescue, Wilderness Medicine, Certified Emergency Manager, and an amateur weather nerd.
Thanks to AMS Weather Band.  Now weather enthusiasts can join meteorologists and weather professionals.  Visit AMSWeatherBand.org
For more storm chaser/spotter safety tips, visit the weather.gov ACES Weather Spotter Safety Program
Girls Who Chase Spring Training, register TODAY for the March 4, 2023 online event!
#weatherfools Links
TTT Twister Trash Trailers Links
Submit your questions or comments about this show to questions@stormfrontfreaks.com or on our social media accounts and we may read it on our next episode!
Next Episode…We'll be LIVE at the National Storm Chaser Summit from February 3-5, 2023 having conversations with many of the speakers which we'll edit into a show.  Become a member of our patreon.com/stormfrontfreaks to tune in LIVE and watch the RAW recording.  Look for the audio podcast on your favorite podcast player following the weekend.
Credits
Opening Music: Brett Epstein
Closing Music: Gabe Cox
Other Music: "Pecos Hank" Schyma from El Reno Blues