Episodes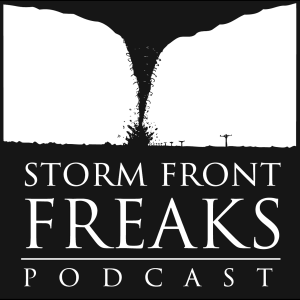 Sunday Mar 05, 2023
Sunday Mar 05, 2023
In This Episode
Brought to you by the Atmosphere Weather app
Guest: James Reynolds, Global Storm Chaser
Storm Chaser Safety Tips - Solo v Team Chasing
Lightning Round - East or West Box Office
Suck Zone: Gas Station Food Reviews with Brolin McKay and Landon Schaeffe
#weatherfools - We present the fools doing stupid things in weather situations
Weather Trollbot 5000 - Our repurposed robot interprets the thoughts of our weather friends after trolled
Next Episode's Guest
Presented by the Atmosphere Weather app - The forecast like you've never seen before.  Visit atmosphereweather.com
Check out our Patreon page for exciting ways to support our podcast and interact with us more!  www.patreon.com/stormfrontfreaks
Our Guest: James Reynolds
Growing up in the UK and living in Japan, global storm chaser James Reynolds chases all things cyclonic, volcanic and cold.  James is the founder of Earth Uncut TV appearing on global news reports and licensing footage for productions ranging from wild weather documentaries to the movie Sharknado.
For more storm chaser/spotter safety tips, visit the weather.gov ACES Weather Spotter Safety Program
#weatherfools Links:
Submit your questions or comments about this show to questions@stormfrontfreaks.com or on our social media accounts and we may read it on our next episode!
Next Episode…We'll be LIVE with the Director of the film Supercell, Jamie Winterstern, to talk about the film and share some clips on Thursday 3/16 at 9pmET/8pmCT the night before the movie premier.  Become a member of our patreon.com/stormfrontfreaks to tune in LIVE and watch the RAW recording.  Look for the audio podcast on your favorite podcast player following the weekend.
Credits
Opening Music: Brett Epstein
Closing Music: Gabe Cox
Other Music: "Pecos Hank" Schyma from El Reno Blues