Episodes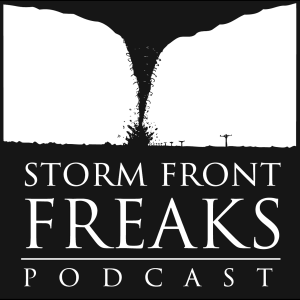 Sunday Apr 02, 2023
Sunday Apr 02, 2023
In This Episode
Brought to you by the Atmosphere Weather app
Guest(s): Jason Frazer, Meteorologist Fox Weather Streaming Service
Storm Chaser Safety Tips - Hazzard Lights
Lightning Round - Pop Culture Trivial Pursuit
#weatherfools - We present the fools doing stupid things in weather situations
Wx Resources - We share some great website, books, apps, equipment and more that you'll want to have
Next Episode's Guest
Presented by the Atmosphere Weather app - The forecast like you've never seen before.  Visit atmosphereweather.com
Check out our Patreon page for exciting ways to support our podcast and interact with us more!  www.patreon.com/stormfrontfreaks
Our Guest: Jason Frazer
Jason Frazer joined FOX Weather in 2021 where he currently serves as the morning co-anchor of the streaming weather service.
Prior to joining the network, Frazer served as a meteorologist for WKYC-TV in Cleveland, OH and spent two years at WTGS-TV in Savannah, GA where he covered several severe weather events, including Hurricanes Florence, Irma and Michael.
A graduate of Columbia University with a degree in Political Science, Frazer completed the Broadcast Meteorology Program at Mississippi State University, earning his certificate in meteorology.
For more storm chaser/spotter safety tips, visit the weather.gov ACES Weather Spotter Safety Program
#weatherfools Links:
Wx Resourses Links:
Submit your questions or comments about this show to questions@stormfrontfreaks.com or on our social media accounts and we may read it on our next episode!
Next Episode…We're getting a lesson on reading radar, hodographs and this year's El Nino and La Nina storm forecast.  Become a member of our patreon.com/stormfrontfreaks to tune in LIVE and watch the RAW recording.  Look for the audio podcast on your favorite podcast player the following Sunday.
Credits
Opening Music: Brett Epstein
Closing Music: Gabe Cox
Other Music: "Pecos Hank" Schyma from El Reno Blues