Episodes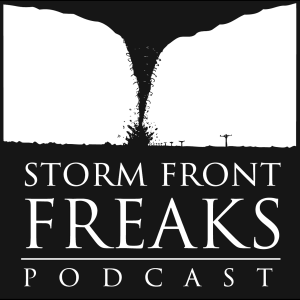 Sunday Apr 16, 2023
Sunday Apr 16, 2023
In This Episode
Brought to you by the Drive Weather app
Guest(s): Trey Greenwood, Meteorologist and Storm Analyst/Chaser
Storm Chaser Safety Tips - Search and Rescue
Lightning Round - Sin City Hold 'em or Fold 'em
#weatherfools - We present the fools doing stupid things in weather situations
Funny Wx Memes - We share our favorite funny weather memes you can use on your next social media post
Next Episode's Guest
Presented by the Drive Weather app - Showing motorists weather along their route at the expected time they will be at each point on their road trip.  Visit driveweatherapp.com
Check out our Patreon page for exciting ways to support our podcast and interact with us more!  www.patreon.com/stormfrontfreaks
Our Guest: Trey Greenwood
Trey Greenwood has been chasing and forecasting severe storms, tornadoes, and hurricanes for over a decade. He's also studied the weather extensively, earning a Bachelor's degree in Geography with a Meteorology/Climatology emphasis from Arizona State University and a Master's degree in Meteorology from the University of Oklahoma, where he used mobile radar data to study tornadoes.  Trey serves as a Team Meteorologist and Tour Guide for Extreme Tornado Tours and creates forecast and case studies on his YouTube site, Convective Chronicles.
For more storm chaser/spotter safety tips, visit the weather.gov ACES Weather Spotter Safety Program
#weatherfools Links:
Funny Wx Memes Links:
Submit your questions or comments about this show to questions@stormfrontfreaks.com or on our social media accounts and we may read it on our next episode!
Next Episode…We'll be covering storm chasing, streaming and brokering your storm footage with Severe Studios chaser, Jordan Hall.  Become a member of our patreon.com/stormfrontfreaks to tune in LIVE on 4/27/23 and watch the RAW recording.  Look for the audio podcast on your favorite podcast player the following Sunday.
Credits
Opening Music: Brett Epstein
Closing Music: Gabe Cox
Other Music: "Pecos Hank" Schyma from El Reno Blues