Episodes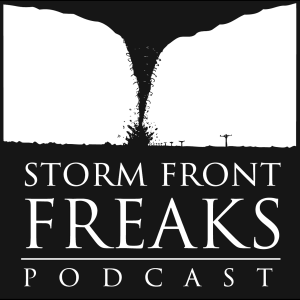 Friday Jun 09, 2023
Friday Jun 09, 2023
In This Episode
Guest(s): Liz Leitman, Storm Prediction Center Meteorologist
Storm Chaser Safety Tips - Sleeping in your Vehicle
Lightning Round - Baker's Dozen
SuckZone Gas Station Food Review - Tower Café in Shamrock, TX
#weatherfools - We present the fools doing stupid things in weather situations
WX AI - We test out the latest in Artificial Intelligence to see if it's ready for the real world weather industry.
Next Episode's Guest(s)
Check out our Patreon page for exciting ways to support our podcast and interact with us more!  www.patreon.com/stormfrontfreaks
Our Guest: Liz Leitman
 Liz Leitman has been a National Weather Service meteorologist for almost 17 years and is a graduate of the University of Oklahoma. Currently a Mesoscale/Outlook forecaster at the NWS Storm Prediction Center, Liz forecasts severe thunderstorm hazards for the nation. Previously, she worked as a meteorologist at local NWS offices in Billings, MT and Louisville, KY. Liz became the first woman to issue a tornado watch on February 15, 2023.
For more storm chaser/spotter safety tips, visit the weather.gov ACES Weather Spotter Safety Program
Find more gas station food reviews on Twitter @suckzonebro
#weatherfools Links
Submit your questions or comments about this show to questions@stormfrontfreaks.com or on our social media accounts and we may read it on our next episode!
Next Episode…we have Storm Photographer and Photo of the Year winners, Jim Tang and Paige Vincent in the studio to share storm photography tips.  SUBSCRIBE and set your NOTIFICATIONS on our YouTube.com/stormfrontfreaks channel so you can get notified whenever we go LIVE.  Look for the audio podcast on your favorite podcast player that weekend.
Credits
Opening Music: Brett Epstein
Closing Music: Gabe Cox
Other Music: "Pecos Hank" Schyma from El Reno Blues