Episodes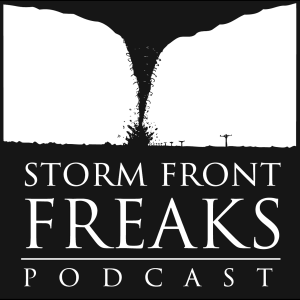 Sunday Jul 23, 2023
Sunday Jul 23, 2023
In This Episode
Don't wait to prepare your home for this tropical storm season.  Visit WindStormProducts.com for all your hurricane hardware and shutter supplies!
Check out our Patreon page for exciting ways to support our podcast and interact with us more!  www.patreon.com/stormfrontfreaks
Our Guest: Amaryllis Cotto
Amaryllis is currently a meteorologist at the National Weather Service in Houston/Galveston after spending time at the San Juan office. She is also a meteorologist for the U.S. Air Force Reserves and is part of the 53rd Weather Reconnaissance Squadron (The Hurricane Hunters) based at Keesler AFB as an Aerial Reconnaissance Weather Officer.  Amaryllis has a B.S. in Meteorology from Embry-Riddle Aeronautical University and an M.S. in Geoscience from Florida International University (focused on meteorology and hurricane dynamics).
For more storm chaser/spotter safety tips, visit the weather.gov ACES Weather Spotter Safety Program
Get your new Storm Front Freaks Gear and other super cool weather geek products at Helicity.co
#weatherfools Links:
Submit your questions or comments about this show to questions@stormfrontfreaks.com or on our social media accounts and we may read it on our next episode!
Next Episode…we have the creator of Mike's Weather Page (spaghettimodels.com), Mike Boylan with us talking about the 2023 tropical storm forecast.  SUBSCRIBE and set your NOTIFICATIONS on our YouTube.com/stormfrontfreaks channel so you can get notified whenever we go LIVE on Thursday, 8/4/23 @ 9pmET/8pmCT.  Look for the audio podcast on your favorite podcast player that weekend.
Credits