Episodes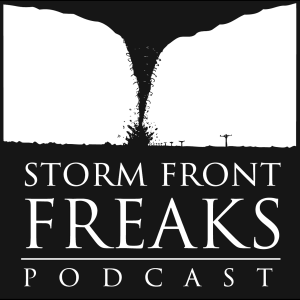 Sunday Aug 06, 2023
Sunday Aug 06, 2023
In This Episode
Check out our Patreon page for exciting ways to support our podcast and interact with us more!  www.patreon.com/stormfrontfreaks
Our Guest: Mike Boylan
 Mike's Weather Page (spaghettimodels.com) was launched in 2004 by Mike Boylan. He graduated from the University of South Florida with a degree in marketing in 1996. His Facebook account has amassed over one million followers, making him a popular figure in the weather blogging realm.  Boylan is also known for his live coverage of Atlantic hurricanes as a storm chaser.  In 2023, the Florida Division of Emergency Management announced a partnership with Mike's Weather Page for the sponsorship of the No. 4 JD Motorsports car in a NASCAR Xfinity Series race.
Don't wait to prepare your home for this tropical storm season.  Visit WindStormProducts.com for all your hurricane hardware and shutter supplies!
For more storm chaser/spotter safety tips, visit the weather.gov ACES Weather Spotter Safety Program
Get your new Storm Front Freaks Gear and other super cool weather geek products at Helicity.co
#weatherfools Links:
Wx Resources Links:
Submit your questions or comments about this show to questions@stormfrontfreaks.com or on our social media accounts and we may read it on our next episode!
Next Episode…we have two up-and-coming weather blogging phenoms in teenagers Adeline Spears and Beckett Moore.  SUBSCRIBE and set your NOTIFICATIONS on our YouTube.com/stormfrontfreaks channel so you can get notified whenever we go LIVE on Thursday, 8/18/23 @ 9pmET/8pmCT.  Look for the audio podcast on your favorite podcast player that weekend.
Credits