Episodes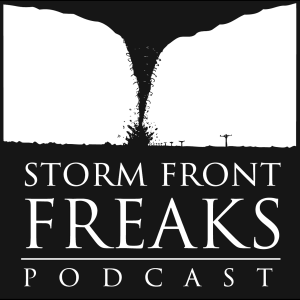 Sunday Sep 03, 2023
Sunday Sep 03, 2023
In This Episode
Check out our Patreon page for exciting ways to support our podcast and interact with us more!  www.patreon.com/stormfrontfreaks
Out Guest: Richard Gross
Richard began his career chasing supercells and other extreme weather throughout the Midwest and Ohio Valley regions and witnessed his first tornado on June 2, 1990 in a suburb of Cincinnati at the age of 9.  Since then, he has intercepted tornadoes across 13 states including the Great Plains and the Deep South and now runs the SWC Expeditions Storm Tours with his wife, Mandy. The Twister Movie Museum in Wakita, Oklahoma was purchased by Richard and his wife in April of 2022.
Don't wait to prepare your home for this tropical storm season.  Visit WindStormProducts.com for all your hurricane hardware and shutter supplies!
Get your new Storm Front Freaks Gear and other super cool weather geek products at Helicity.co
#weatherfools Links
Submit your questions or comments about this show to questions@stormfrontfreaks.com or on our social media accounts and we may read it on our next episode!
Next Episode…it's a mentally tough business working in the weather industry from meteorology to storm chasing.  We'll be talking with former National Weather Service Behavioral Health and Wellness Officer, Valerie Gardner.  SUBSCRIBE and set your NOTIFICATIONS on our YouTube.com/stormfrontfreaks channel so you can get notified whenever we go LIVE on Thursday, 9/14/23 @ 9pmET/8pmCT.  Look for the audio podcast on your favorite podcast player that weekend.
Credits