Episodes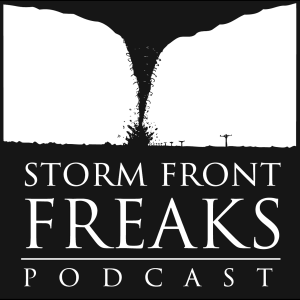 Sunday Oct 15, 2023
Sunday Oct 15, 2023
In This Episode
Guest: John Gordon, MIC at NWS-Louisville and former Hurricane Hunter
Brought to you by windstormproducts.com
Lightning Round - 3 Strikes and You're Out of the Woods
amsweatherband.org join other meteorologists and weather professionals
Find SFF Gear and other weather geek products at helicity.co
#weatherfools - We present the fools doing stupid things in weather situations
Weather Trollbot 5000 - Our repurposed robot interprets what our weather friends were really thinking when responding to trolls
Next Episode's Guest(s)
Don't wait to prepare your home for this tropical storm season.  Visit WindStormProducts.com for all your hurricane hardware and shutter supplies!
Check out our Patreon page for exciting ways to support our podcast and interact with us more!  www.patreon.com/stormfrontfreaks
Our Guest: John Gordon
John Gordon has been an operational meteorologist for over 30 years. John retired from the U.S. Air Force after serving over 20 years most of which was spent as a flight meteorologist for the US Air Force Reserve Hurricane Hunters based in Biloxi, MS. John flew several major hurricanes including Fran 1996, Bret 1999, Isabel 2003, Frances 2004, Ivan 2004, and Katrina 2005. Currently, John is the Meteorologist-In-Charge of the National Weather Service (NWS) Forecast Office here in Louisville.
Thanks to AMS Weather Band.  Now weather enthusiasts can join meteorologists and weather professionals.  Visit AMSWeatherBand.org
Get your new Storm Front Freaks Gear and other super cool weather geek products at Helicity.co
#weatherfools Links
Submit your questions or comments about this show to questions@stormfrontfreaks.com or on our social media accounts and we may read it on our next episode!
Next Episode… former EMT and now storm chaser for 10 years, Vince Waelti will be joining us and sharing some video including the Iowa EF4 he captured ¼ mile away from the base.  SUBSCRIBE and set your NOTIFICATIONS on our YouTube.com/stormfrontfreaks channel so you can get notified whenever we go LIVE on Thursday, 10/26/23 @ 9pmET/8pmCT.  Look for the audio podcast on your favorite podcast player that weekend.
Credits
Opening Music: Brett Epstein
Closing Music: Gabe Cox
Other Music: "Pecos Hank" Schyma from El Reno Blues