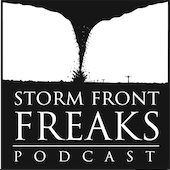 In This Episode
Guest: Reed Timmer, Extereme Meteorolgist with AccuWeather

National Weather Podcast Month Guest Co-Host: Dakota Smith, The Weather Junkies

Lightning Round: Who Want's To Be A Millionaire-Insects

NEW Titan U Minute with Chris Sanner: The Cap

The team discusses disparity between people in weather for the science and people in weather for business and money.

Brady's Storm School: Astronomical vs Meteorological Spring

Weather Fools: We share the foolish things people do in bad weather situations

Wx Resources: We provide some great weather sites, apps and equipment

Our next guest
Our Guest
Reed Timmer, Extreme Meteorologist for AccuWeather
Reed is a meteorologist and storm chaser who starred on Discovery Channel's reality television series Storm Chasers. He previously starred in the documentary film Tornado Glory and subsequently the TV series Tornado Chasers following the cancellation of the Discovery Channel show. Reed graduated with his Ph.D. in Meteorology from Oklahoma University in the spring of 2015 and currently storm chases for AccuWeather.
Sponsor: www.SevereStreaming.com of Severe Studios
Titan U Minute with Chris Sanner: www.TorndaoTitans.com
Discussion Topic Links
CNBC-Weather Services Become Big Business
Sponsor: www.WeatherProShop.com of Severe Weather Center
Weather Fools Links
WxResources Links
Submit your questions or comments about this show to questions@stormfrontfreaks.com and we may read it on our next episode!
The Weather Junkies Podcast can be found at www.theweatherjunkies.com
March is National Weather Podcast Month. We are joined by 7 other weather podcasts in a month of great programming and co-host crossovers! Find the National Weather Podcast Month logo on our website for more information.
Next episode, our guest will be Storm Chaser and Owner of Severe Studios, Kory Hartman and we'll have a guest co-host from the Weather Brains podcast, Bill Murray.
Credits
Opening and Closing Music: Andrew Slotta