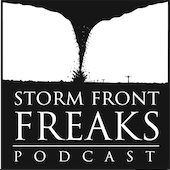 In this Episode
Guest: Kevin Roth, Meteorologist for Rotogrinders.com Fantasy Sports and CW33-TV in Dallas/Ft. Worth, TX

Lightning Round: Hollywood Squares

Titan U Minute with Chris Sanner: Chase Vacation

The team discusses why TV meteorologists lack staying power and even quit.

Brady's Storm School: Cumulonimbus Clouds

Weather Fools: We share the foolish things people do in bad weather situations

Wx Resources: We provide some great weather sites, apps and equipment

Our next guest
Sponsor:   www.AcuRite.com
Our Guest
Kevin Roth, Meteorologist for Rotogrinders.com Fantasy Sports and CW33 TV in Dallas/Ft. Worth, TX
Kevin has a Bachelor's Degree from Florida State University and a Master's Degree from Mississippi State, seal of approval from the National Weather Association, and 5+ years working in severe weather markets. Lover of weather, science, and anything nerdy.
Kevin Roth Meteorologist on Facebook
Sponsor: www.SevereStreaming.com of www.SevereStudios.com
Titan U Minute with Chris Sanner: www.TorndaoTitans.com
Sponsor: www.WeatherProShop.com of Severe Weather Center
Weather Fools Links
Brady/Phil: Hackers set off TX warning sirens
WxResources Links
Kim: RadarScope
Phil: NWS Louisville Tornado Track Map
Submit your questions or comments about this show to questions@stormfrontfreaks.com and we may read it on our next episode!
Next episode, our guest will be Storm Chaser, Photographer, Author and Director, Mike Olbinski
Credits
Opening and Closing Music: Andrew Slotta