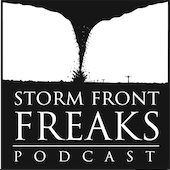 In This Episode
Guest: John Gordon, Meteorologist-In-Charge NWS-Louisville and former Hurricane Hunter.
Lightning Round: Who Wants To Be A Millionaire-Louisville Slugger Edition
Titan U Minute with Chris Sanner: 3 Tips to Improve Photography
The team discusses the increase in flood deaths and decrease in almost all other natural hazard deaths over the last 30 years.
Wx Resources: We provide some great weather sites, apps and equipment
Weather Fools: We share the foolish things people do in bad weather situations
Listener/Viewer Comments and Questions
What's on our next show?
Our Guest
John Gordon, Meteorologist-In-Charge NWS-Louisville and former Hurricane Hunter.
A 22-year NWS veteran, Gordon has held a variety of forecast and management positions in Mississippi, Alabama, Missouri and Tennessee. From beginnings as a meteorologist intern at the forecast office in Jackson, Miss., Gordon worked his way through forecasting and management positions with increasing responsibilities. He is also an aircrew meteorologist and mission director for Hurricane Hunter aircraft as a member of the U.S. Air Force Reserve.
Gordon earned his bachelor's degree in meteorology from Park College of St. Louis University in 1986 and earned a master's in teaching of geosciences at Mississippi State University in 2002. After spending a year at the Jackson office, Gordon served as a journeyman forecaster at the Springfield, Mo., office from 1994 to 1998, when he was selected as a lead forecaster at the Nashville, Tenn., forecast office. He served as meteorologist-in-charge of the Huntsville, Ala., office beginning in 2002, where he led the spin-up of the new forecast office until reporting to Louisville.
Gordon served in the U.S. Air Force from 1986 to 1992, serving as a Wing Weather Officer at Tinker Air Force Base, Okla., from 1986 to 1990 and as Team Chief at the European Forecast Unit in Germany from 1990 to 1992. As a member of the Air Force Reserve since 1993, Gordon serves as a flight meteorologist with the Air Force Hurricane Hunters out of Keesler AFB, Miss. Gordon flew six missions into the Category 4 hurricanes Frances and Ivan in 2004 and has made more than 90 hurricane-penetrating flights since 1995.
Titan U Minute with Chris Sanner: www.TorndaoTitans.com
WxResources Links
Weather Fools Links
Submit your questions or comments about this show to questions@stormfrontfreaks.com and we may read it on our next episode!
Next episode (40), we're setting you up with a holiday wish list. We'll be reviewing and giving-away weather products from Eton, Sangean, GPX, Alex Brands and WeatherProShop.com. Also, we'll share some great weather-themed drink recipes for the holidays!
Credits
Opening and Closing Music: Andrew Slotta